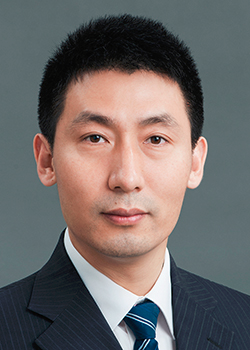 Prof. Tie Qiu, Tianjin University, China
Young Chang-Jiang Scholar, IEEE Senior Member, ACM Senior Member, CCF Senior Member,
邱铁教授 ● 青年长江学者 | IEEE高级会员和中国计算机学会CCF高级会员 | 物联网专业委员会委员

Dr. Tie Qiu received Ph.D degree in computer science from Dalian University of Technology in 2012. He is currently a Full Professor at School of Computer Science and Technology, Tianjin University, China. Prior to this position, he held assistant professor in 2008 and associate professor in 2013 at School of Software, Dalian University of Technology. He was a visiting professor at department of electrical and computer engineering of Iowa State University in U.S. (2014-2015). He serves as an associate editor of IEEE Transactions on SMC: Systems, area editor of Ad Hoc Networks (Elsevier), associate editor of Human-centric Computing and Information Sciences (Springer), a guest editor of Future Generation Computer Systems. He serves as General Chair, Program Chair, Workshop Chair, Publicity Chair, Publication Chair or TPC Member of a number of international conferences. He has authored/co-authored 9 books, over 100 scientific papers in international journals and conference proceedings, such as IEEE/ACM Transactions on Networking, IEEE Transactions on Mobile Computing, IEEE Transactions on Knowledge and Data Engineering, IEEE Transactions on Industrial Informatics, IEEE Communications Surveys & Tutorials, IEEE Communications, INFOCOM, GLOBECOM etc. There are 12 papers listed as ESI highly cited papers. He has contributed to the development of 3 copyrighted software systems and invented 20 patents. He is a senior member of China Computer Federation (CCF) and a Senior Member of IEEE and ACM.
邱铁,博士,天津大学计算机学院教授,博士生导师,青年长江学者,2018年入选天津大学北洋学者计划、同年入选天津市131人才计划(第一层次),ACM中国理事会天津分会秘书长;IEEE高级会员和中国计算机学会CCF高级会员、物联网专业委员会委员。曾在美国爱荷华州立大学(Iowa State University)电子与计算机工程系作访问学者(2014-2015)。主要从事物联网技术、智慧城市与移动计算,智能大数据分析等相关研究工作。
目前为国际期刊IEEE Transactions on Systems, Man, and Cybernetics: Systems和Elsevier Ad Hoc Networks等五个SCI检索国际期刊编委,并担任过多个国际学术期刊的客座编辑。作为多个国际会议的大会主席、程序委员会主席及程序委员会成员。编写并出版专著及专业教材9部(第一作者8部);现已获得授权国家发明专利16项,计算机软件著作权4项。
已发表学术论文150余篇,部分论文发表在国际著名期刊IEEE/ACM ToN, TMC, TKDE, TII, TITS, TVT, TCY, COMST, COMMAG等期刊和IEEE INFOCOM, SMC, ICC, ACM MobiHoc, IEEE GLOBECOM等会议上,其中13篇论文被列为ESI高被引论文。主持国家重点研发计划和自然科学基金项目及省部级项目8项。


Assoc. Prof. Manhua Liu,
Shanghai Jiao Tong University, China
Dr. Manhua Liu is currently an Associate Professor with the Artificial Intelligence institute, Shanghai Jiao Tong University. She received the Ph.D. degree from Nanyang Technological University, Singapore, in 2008. Her research interests include multi-modality brain image computing and analysis, biometrics, and machine learning and their applications to normal early brain development and disorders. She has published more than 60 SCI/EI papers in journals and proceedings of international conferences. As the PI, Dr. Liu has also successfully collaborated on 3 NSFC projects and National Key National Key Research and Development Program sponsored projects.
上海交通大学电子信息与电气工程学院仪器科学与工程系,目前任副教授、博士生导师。2006年博士毕业于新加坡南洋理工大学信息技术系;于2007-2008年在新加坡南洋理工大学从事博士后研究;2008年8月至今在上海交通大学仪器科学与工程系。并于2011-2012年在美国北卡罗来纳大学教堂山分校放射系沈定刚教授实验室访学一年。
近十多年一直从事人工智能和图像识别领域的关键技术研究,包括多模态医学影像智能计算和分析及疾病诊断、机器学习和人工智能、指纹识别、图像检索、机器视觉检测等关键技术研究。在国内外重要刊物如IEEE Trans,Neuroimage, Human Brain Mapping, PR等发表论文40余篇,其中SCI收录20余篇,EI收录30余篇。目前主要研究兴趣包括深度学习、图像特征提取、模式识别、多模态医学影像融合分析等.